I've been doing some tests with smoke simulation lately, and I met an interesting case I'd like to share. After doing some simple smoke emissions, I tried to get smoke trails. For unknown reasons a flickering was ruining the shading, no matter which resolution I was baking the simulation.
I showed the file to Daniel Genrich (Genscher) and Miika Hämäläinen (MiikaH) who provided a fix and a simple explanation.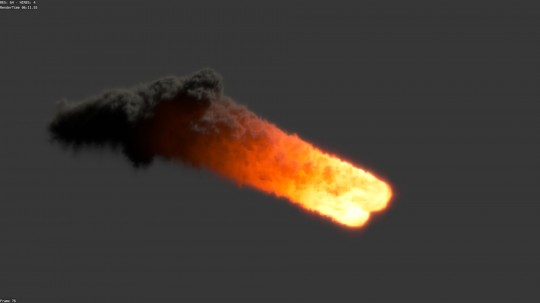 The flow object Absolute Density had to be turned off and the Density parameter had to be turned down from 1 to 0.3: this prevented emitted particles to overlap in space and generate part of the flickering effect.
For the Domain object, the "color" texture had to be tweaked so that in the Voxel Data panel the source appeared to be Heat instead of Velocity.
This changed massively the quality of the simulation, which then I baked at high resolution. You can compare the results in the following video (there were some caching issues, so the final part of the sim is not complete), and you can also download the files if you are interested in the settings.