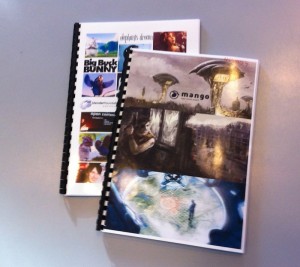 Nothing exciting to mention really, but I know unexciting news on progress is also welcome :)
Past month's first half went to getting an application for the Netherlands Film Fund ready. With help from David Revoy (artwork for Mango script presentation) Anja (budget spreadsheets) and Rob (Sintel + Institute report) I delivered two booklets with about 150 pages of content to the Fund 2 weeks ago. (see image). Film Fund budget would be *very* welcome to lift up the quality of our filming work. Fingers crossed!
The time schedule is still same as well. Starting February 18th Ian Hubert and David Revoy will work here for two weeks on a final storyboard for the film. They then present that to the team on March 3, then they're all here (apart from Jeremy who arrives 2 weeks later). Idea for the kick-off in the first week of March (3-8) is to make a short film together. Complete from start to finish in 5 days. Will be a great exercise together to figure out what we can do, and what Blender can do even! :)
In the past weeks I've also done paperwork for contracting, been contacting potential sponsors and studios, booked flights for everyone to Amsterdam, visited apartments where they can live, checked on where to get good bicycles. Also had a meeting with DP Joris Kerbosch, I've already booked in several experienced VFX supervisors as consultants, contacted camera sponsors (want Red epic!), visited greenscreen studio, checked on locations for filming (incl old factories).
The actual filming is still depending on a lot of variables. Current estimate is to rather do it a bit later than too early. Instead of '2nd half april' it more is 'mid may' now. Final decisions on this will be done with Ian & Joris here, in about 3 weeks.
So; there's a lot in the pipeline, as soon as there's tangible news I'll post it here immediate. Expect more updates here from other team members, and of course from Ian and David when they're storyboarding. (Ian asked "can i change the script still?" Yeah, sure! Not for long!)
Laters,
-Ton-