Open Movie – free to share and show
Tears of Steel is licensed as Creative Commons Attribution 3.0, which allows you to share and show the film freely, for as long you keep the credit scroll included.
Read more >>
Project origins
As usual – like previously for Orange, Peach, Apricot and Durian – the Blender Foundation's interest is to organize projects that will help Blender further:
Stimulate development of advanced production-level features.
Validation of Blender by great artists
Use and improve an open source creation pipeline
Deliver good publicity and PR for Blender
Create useful presentation and educational material in Open Content
Last but not least, provide a fun and inspiring experience for the entire Blender community!
We do this by inviting the best of the talents from the Blender community to work in Amsterdam for half a year or more, in the studio of the Blender Institute. They get excellent working conditions, and full coverage for travel and housing, including a reasonable fee. All of tools we use here for the film are open source, and everything we create, including the final result, is being delivered as free and open content under Creative Commons Attribution.
Mango concept
Since we don't have a traditional commercial production method, the team who will execute Mango will get a near unsurpassed freedom in creating it. Some aspects have been frozen though, partially because of the technical targets, partially just do something different than the previous projects.
Short vfx-based film with real actors, 3-5 minutes.
Theme: Sci-fi in Amsterdam
Technical targets
Camera and motion tracking
Photo-realistic rendering
Improved color pipeline
Improve compositing, (video/vfx) editing, masking and grading
Fire/smoke/volumetrics & explosions
Fix the Blender deps-graph!
Free/Open Source software
For the entire creation pipeline in the studio, we will only use free/open source software. For 3D graphics, compositing and video editing we'll obviously use Blender. The new 'Cycles' render engine will be used, which includes open source projects like OpenShading, OpenColor and OpenImage. For camera and motion tracking Blender uses Libmv. For imaging and drawing we expect to use GIMP, MyPaint, Krita and Inkscape a lot. Render output and footage will be using the OpenEXR format. Scripting will be done in Python. Studio database storage will most likely be in SVN. The workstations in the studio will be equipped with 64 bits Ubuntu Linux. We have our own render farm this time, running on Debian and Ubuntu.
Since we'll work with external providers for music, sfx and mix, we can only recommend them to include free software in their pipeline, but won't put stringent demands here.
Obviously we're very interested to be in contact with free/open source projects of any kind, to check on what we can do together.
Budget
The Blender Institute will fully backup the financial and practical aspects of Mango. Apart from the funding we get via the online DVD pre-sale, and funding via other revenues of the blender.org e-shop, we have actively approached several potential sponsors and funds. Already known is Premium Sponsorship by Google.
Sponsors and potential stakeholders are welcome to join project Mango, please check the
Sponsor Prospectus
on this website.
Contact info
Ton Roosendaal – ton at blender.org
Support us: get the DVD box!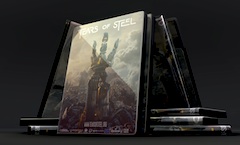 Project summary
Tears of Steel (2012)
Duration: 12 minutes.
HD and DCP 2.35:1, Dolby 5.1.
Age: for 12 years and older
Language: English spoken
Production: Blender Institute
Producer: Ton Roosendaal
Director & Writer: Ian Hubert
Director of Photography: Joris Kerbosch
Composer: Joram Letwory
Starring: Derek de Lint, Sergio Hasselbaink, Rogier Schippers, Vanja Rukavina, Denise Rebergen, Jody Bhe. Chris Haley
CG Crew: Andreas Goralczyk, David Revoy, Francesco Siddi, Jeremy Davidson, Kjartan Tysdal, Nicolo Zubbini, Rob Tuytel, Roman Volodin, Sebastian Koenig, Brecht van Lommel, Campbell Barton, Sergey Sharybin.
Project funding: Blender Foundation, Netherlands Film Fund, Cinegrid Amsterdam.
Premium Sponsor: Google. Main Sponsors: NVIDIA, Hewlett-Packard Workstations, Camalot AV Services, BlenderGuru.
"Tears of Steel" is a short film made in Amsterdam the Netherlands by the Blender Institute, well known for realizing the open source short animation movies "Big Buck Bunny" (2008) and "Sintel" (2010). As usual these films get financing by crowd-funding in online communities of 3D artists and animators.
For "Tears of Steel" the funding target was to explore a complete open source pipeline for producing a high quality visual effect film, with as theme "Science Fiction in Amsterdam".
Producer Ton Roosendaal invited young Seattle talent Ian Hubert to come working in Amsterdam for 7 months to write and direct the film – assisted in Blender Institute's studio by an international team of 3d and vfx artists, and with a Dutch film crew and Dutch actors.
The film's premise is about a group of warriors and scientists, who gathered at the "Oude Kerk" in Amsterdam to stage a crucial event from the past, in a desperate attempt to rescue the world from destructive robots.
The film itself – as well as original footage and all the studio files – will be released as free and open content; the Creative Commons Attribution license.
Contact info:
Ton Roosendaal – ton at blender.org