Here's the first shading pass on the QuadBot.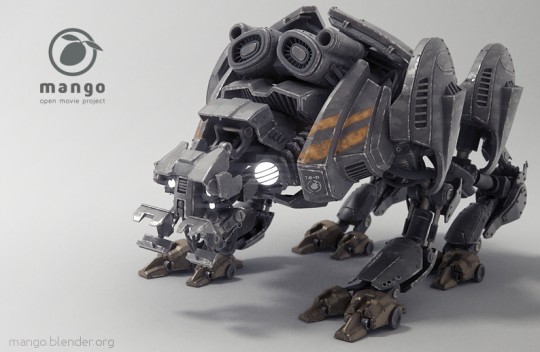 The texture consists of 3 main parts.
1. Non-specific patterns (grunge and stuff) mapped with something called blended box mapping. i'll write a post explaining blended box map soon.
2. A dirt map. We have a nice batch baker that bakes out AO and inverted AO. Nicolò wrote about it earlier (/artwork/shading-tests-dirtmaps/). I used that as a base and painted on top of it. This is mapped with automatic Smart UVs.
3. Lastly specific maps. This is something that only certain objects need, so it is mapped with a proper UV and blended in with an alpha in the material.
For painting I used Blender and GIMP. Unfortunately GIMP on Ubuntu is giving me a lot of problems while painting. For some reason every 5th stroke or so want to explode into space! Pablo, Sergey and Francesco all tried to help out, but unfortunately they were not able to fix it. If anyone knows how to fix it then please let me know.