Textures .. there's never enough of them (especially tileable , equalized , easily reusable ones)
While modelling stuff for the dome i've been doing some tileable textures kits, still lots to model, but some assets already need to be tested with materials to define the pipeline (.. or simply to check if modelled detail is enough :D)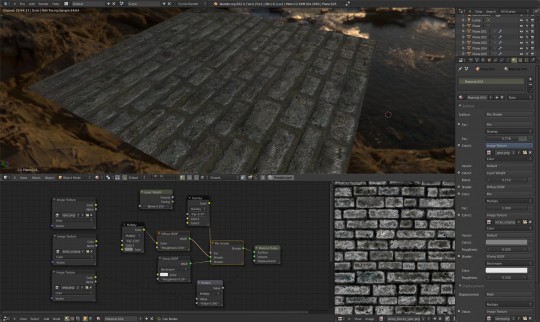 These textures are work in progress ( the finished version will go in the final dvd)  they are mostly based on photos i or Sebastian took around the city or from Campbell Barton's library.( http://www.graphicall.org/ftp/ideasman42/textures/ )
The process of making photos into reusable textures is relatively simple , involving cropping, undistorting and clone-stamping over edges to eliminate seams.
Then the interesting part is the 'equalization' that is removing 'big shapes' and gradients that will make the tiling too visible.
For doing that Gimp has a great 'wavelet decompose' plugin (available from plugin repository) : it will break the image into several layers each containing a 'scale' of detail from the smaller to the biggest … then you can just delete the bigger scale layers (usually , on a 2-4k texture details bigger than 300-400 pixels only ruin the usefullness of the texture as a tileable)
There's more to say but .. there will be a quick video tutorial about this.
For the shader : it's a simple cycles nodes setup as you see in the picture . More polished kits (mesh+textures+materials) coming soon.
So, for now enjoy the free CC licensed textures preview :
https://download.blender.org/mango/Tests/wip-textures/
CC licensing info : You are free: – to copy, distribute and display the work – to make derivative works – to make commercial use of the work
Under the following conditions: You must attribute the work as: (C) Blender Foundation – mango.blender.org