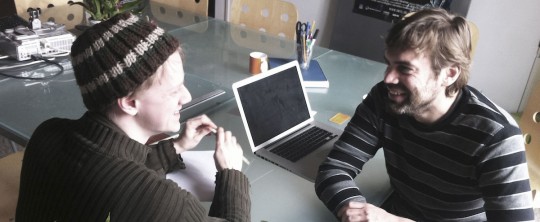 Today meeting with Joris Kerbosch (Director of Photography) and Ian. We went extensively over the script ("Ian, what's this film about, for real?"), and already discussed plenty of practical filming issues – Joris brings in so much experience! Joris also had his wishlist of important people to add to his crew. On the top of his list: the Focus Puller!
Me: "So… eh, focal pulling can't be done by some local monkey?"
Ok… now I've learned that there's much less good focus pullers than decent DP's around. He'll not only "keep things in focus" but will be operating the camera itself in general; with Joris also running around to work with gaffers (light) and grips (cranes, dollies). Assuming we can find all of these… luckily there's Rob Tuytel – our Film Academy connection!
Joris and Ian will be meeting next week again to visit some locations in town. I can only give Joris final answers on crews in 2 weeks… when we know a bit more about final budgets.