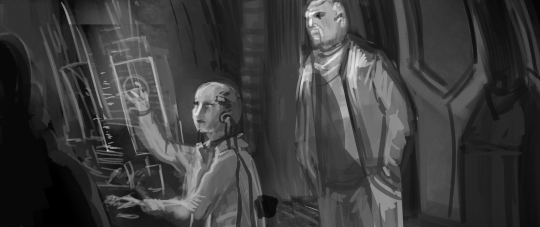 So we decided that, unlike Sintel, we're not going to wait to post blog updates until we have things like, "Good Reasons"- we're gonna post whatever, just to keep you guys in the loop, and show you what's really going on. We're not going to be nearly as worried about secrecy (that said, we're also probably not going to bend over backwards showing you everything :P).
This is good news for me, because otherwise the concept of frequent blog post 'presentations' to the blender community would be totally exhausting/intimidating!
Not that we'd be short on content for today! Holy cow. I had no idea when I woke up that we'd be storyboarding the entire film! Which means I get to work with David to plan out every single shot of this thing. That's a lot of shots, and a lot of decisions! We're currently at shot 53- but I suspect we're only halfway there. David estimates we'll be up till midnight. I estimate that means it's time to grab burgers. Of course, a lot of the stuff we're doing today will change once we solidify designs, talk with Joris (the D.P. (The Director of Photography (the guy who actually makes the shots))), and figure out how we're actually going to pull off a lot of the more confusing compositions.
It's also really great to be able to storyboard with the same guy who would otherwise be doing a lot of the concepts, as the processes can really go hand-in-hand. We'll know exactly which designs we need to refine, and what we can keep rough.
Anyways, here is a video with absolutely no narrative curve! I'm gonna eat a burger!
Ian