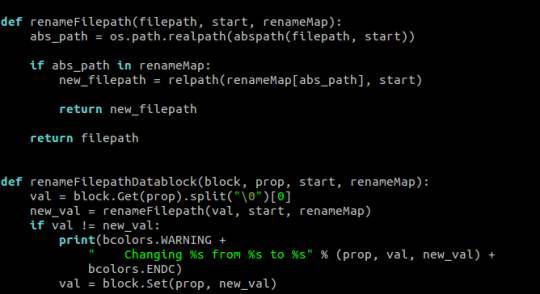 Hey there!
Just wanted to share one script which might be useful for almost everyone (and after some further improvements for everyone :)
This script checks which files in svn repository were moved/renamed using `svn mv` command and updates paths used by data blocks in all blend files from this repository preventing "dead links" and manual work to repair all this stuff.
How to use it: simply rename/move needed files using `svn mv` command and before commit run the script.
Notes:
Script was written to work with out directory structure (basically it assumes svn checkout is done to /mango folder), so before running it you'll need to make some tweaks to paths.
Script is working directly with .blend files and in theory it might corrupt something. So do not use it on uncommitted to the svn files.
Currently script changes paths only critical for us at this moment, probably some extra paths should also be fixed (like paths to external multires data, text data blocks and so on). Easy to add but i'm a bit too lazy for this :)
This script is using small python library which read/writes .blend files which was written by Jeroen Bakker for blender aid project.
So, here's the script: updateLibraries
Have a nice day!
-sergey-