Hello everyone,
Apparently you can't do a computer graphics without using computers. But which exactly computers and how much of them we're using?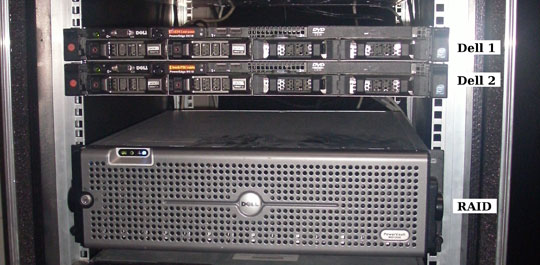 Couple of different hardware configurations are used in the studio by artists and by renderfarm and this short post is devoted to describe which exactly hardware configurations we're using for Mango project. As an addition there're benchmark result of CPU and GPU rendering on that systems provided at the end of this post.
Studio Server
Studio server is a fancy dual-Xeon system with 12 Gb of RAM. Both processors are quad-core with hyper-threading support running on 2.27Ghz. Own hard disk space is only 146Gb SCSI disk (which means it's superfast), but there's external hardware disk array attached to this server. In fact, there're are two raid arrays there: one of them is only 1Tb which is used for day-to-day shared folder and production svn, and another one is 5Tb array used for rendered data. I'm not sure about raid levels used, but think it's raid-1 (mirror) used to smaller array and raid-5 used for bigger array.
It's a headless server so there's no fancy video card in this computer.
Render Nodes
Currently we don't have justacluster running (probably it'll be configured this week), so there's only 4 Dell nodes which are used by render farm. Each Dell node is a dual-Xeon station and it's also quad-core processors with hyper-threading support and they're also running on 2.27Ghz. They've got 24Gb of RAM and 160Gb space on a SCSI disk.
This is also headless systems.
 Systems used by artists
Kjartan is using new system delivered to us from HP which is a single-Xeon station, quad-core without hyper-threading running on 3.5Ghz. It've got 8Gb RAM and 1Tb haddrive space. This machine has got Quadro 2000 video card.
Francesco is also using HP station with the same processor, memory and hard drive, but video card was replaced with 8800 GTS.
Nicolo is using station based on Core i7 920 processor which is quad core with hyper-threading support running on 2.67Ghz. This computer has got 12Gb RAM and 500Gb hard drive. This computer has got two videocards one of them is 8400GS and another oen is Quadro 2000 taken from Francesco's computer.
Ian and Sebastian are using identical systems with dual-Xeon configuration. This processors are quad-core with hyper-threading support and they're running at 2.66Ghz. There's 24Gb of RAM and approximately 380Gb hard drive. Video card is GTX260.
Jeremy is using quite the same computer as Nicolo with core i7 processor but here there's another video card installed — it is GT220.
Developer's room
In the developers room we've got two running machines. One of them is dual-core Intel Core 2 system running at 3.0Ghz, 4Gb RAm and video card is 8800 GTS. This machine isn't actually used at this moment and i hope we'll collect a bit better configuration here when Brecht will arrive working here. Another system in this room is a quad-core Intel Core 2 system running at 2.66Ghz with 8Gb RAM and the same 8800 GTS video card.
Network
We've got two separated networks here. One of them is used by computers in the studio and another one is used by render farm. In both cases it is gigabit network and separation is needed to reduce network latency caused by network activity of render farm and artists. To be more fancy studio computers are attached to gigabit switch which is connected to server with 10GBit connection.
Benchmarks
Benchmark was done using BMW model from Mike Pan which you can find in this blenderartist thread. There were 4 setups: FullHD (1920×1080), HalfHD (960×540) with CPU and GPU rendering. There's a time taken for rendering by different systems (time in brackets is time of HalfHD rendering).
Dell nodes: 13:54.73 (3:36.34)
Server: 12:16.38 (3:08.18)
Single Xeon stations used by Kjartan and Francesco: 15:19.74 (3:49.34)
Core i7 stattions: 18:12.02 (4:51.83)
Dual Xeon stattions used by Sebastian and Ian: 10:30.83 (2:47.79)
GT220: 20:52.60 (5:39.25)
GTX260: 9:53.98 (2.43.56)
Quadro 2000: 11:10.93 (2:55.09)
And here's some charts to show differences better:
Just in case, note, that benchmark results posted in that blenderartist thread is made for HalfHD resolution.
-sergey-