So!
Sooo……..
We're making a movie. And it has a lot of VFX shots in it (110ish?). And they were not photo-real enough. So now we're making everything more realistic! And keeping up with our quote of 50 seconds per week.*
You want to know what's tricky? Staring at a picture that looks pretty good, but not entirely realistic, and trying to figure out what exactly is off about it.
It's a really abstract place to be. Take a look at the image below. It looks like a reasonably solid game cinematic, but not exactly realistic. But what exactly is off? Of course you can always look at the models and find problems, but it's something more than that, since the picture doesn't look any more realistic if you step back and see it from a distance where the details are unnoticeable.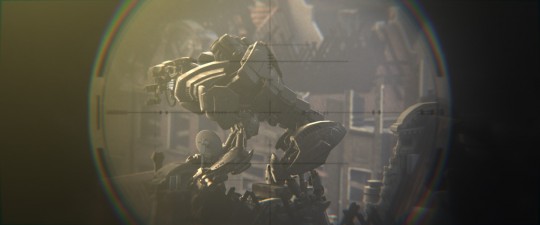 One of the biggest factors contributing to "The CG Look" in general is perfection, or a lack of randomness. You can see in the above picture a lot of the tricks we employed to try to get rid of that: haze, film grain, lens flares, destruction, a wee bit of diffusion, a narrow depth-of-field, angled boards, burned textures, specular maps, image textures, worn down edges on the robot, beveling, chromatic aberration (and though you can't see it in the picture, some handheld shake shake and lens jitter (nothing distracting)). It's a smorgasboard of tricks to try to convince you that the image looks too natural to have been made by a computer, and in a lot of cases you can take an fairly mediocre shot, throw some of those tricks at it, and have a great final render.
Though sometimes, as in this case, it backfires. Especially with Blender, chromatic aberration is an infamous cg 'tell', and lens flares have been overdone since the 90s.
It's easy to find details that are off- things being out of scale, modeling being low res- but if a whole scene is looking weird, that's usually a sign that the lighting itself is wrong. I've always considered it a good practice that if you render the scene all gray without textures, your lighting should still work.
Shooting day for night is a reasonably common practice where you shoot during the day, but put various filters in front of the lens to try to make the image look like it was shot at night.  It can work reasonably well under certain conditions, but one where it never really flies is when you're trying to pass of sunlight as moonlight. It's all about contrast. We know that the contrast between the light and shadow from the moon is far less than the light and shadow from the sun, and we don't buy it (even if it's tinted nice and blue).
That was a problem with the above shot. The sunlight's intensity didn't have the right ratio to the ambient light's intensity. So to try to fix it, I brought in a picture from the internet that had the lighting that we were actually going for, and made everything match as well as I could. The color of the haze, the intensity of the light, and the shadows. It was a combination of doing the initial lighting setup in the viewport, then doing the final black-level tweaks in the compositor. At some point I might figure out a more automated way of balancing the sun/ambient lighting intensities, but until then, it's all just eyeballin'.
Meanwhile, across the room, Rob was remodelling all the buildings like a madman.  I don't want to talk about it too much, since I suspect he's going to be doing a post soon, but he's been incredible. He modeled dozens and dozens of buildings and city props. Initially he had burned out most of the roofs in the city, showing evidence of a massive robot war- but trying to get that level of detail and randomness on a citywide scale was proving a bit prohibitive (seriously- just try googling 'burned building'. and imagine trying to model an entire city of that, that has to be realistic even in close-ups. Super tricky!)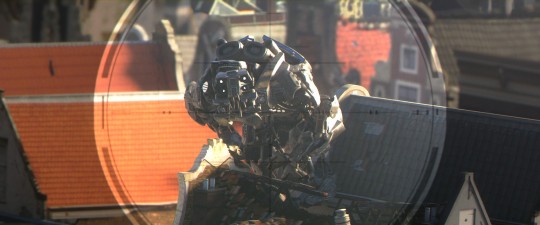 So here's where we're at now. Not final, but definitely a lot better. Rob is still going through pumping up the resolution/textures of various elements (I suspect he'll be irked by my uploading a WIP :P), and a bit of coloring/grading could be tweaked, but it's a definite step up.  You'll be able to see how the shot finally turns out when we release the upcoming teaser (soon!).
*One of the sentences in this paragraph is a lie.