The modelling for the dome environment is proceding steadily,  here's a test render (from last week, actually) :
Light design and compositing are totally temp,  the shaders will need lots more testing and you can easily spot some meshes that are still at previz-level-of-detail.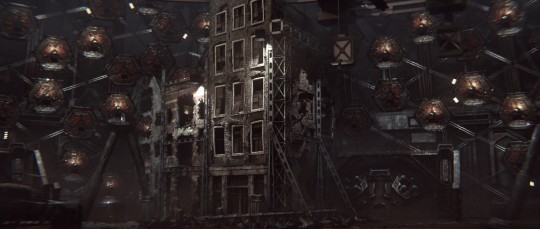 This week I was more focused on modelling details so that for the shooting (or right after it)  shots can be framed and setup with a good idea of the final shapes and silhouettes (see renders at the end of post).
The 2 screenshots below show a typical sci-fi-industrial-metal environment prop (it's a module of the base ring of the dome). the more 'organic' objects (old buildings, wood and stone) are proving more complicate and require individual solutions … but big misc machinery with an industrial-sci-fi look ? Those can be made reliably with almost always  the same modelling and shading tecniques.
This uses the batchbake and 3-steps stencil node I've posted about earlier,  and very soon I'll be able to check with the others (devs and artists) how well this is working and what tweaks it might require (but it should prove efficient for memory in large scenes and flexible to tweak for specific shots or depending on the rendering needs ).
As you can imagine, it would make sense to think of modelling and texturing , then care about shaders and materials later, when the lighting is being done … But, for these environment pieces, you can't really expect to have custom unwrapped, non-tiling UVs for everything and col/spec/bump maps for every indivudual object (nor it is technically convenient for memory and texture resolution),  so 'texturing' is more about making tileable, reusable textures and set them up in materials that can be later tweak to respond to light as needed.
Of course some custom painted maps are necessary , but -combined with tileables- is often enough (or better) to use vertex color for  AO and base color , and low-res bitmap masks (i.e. to mix broken plaster and bricks).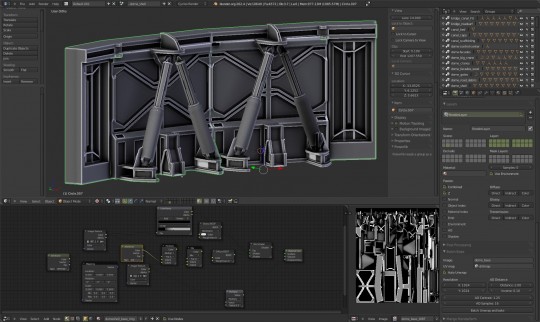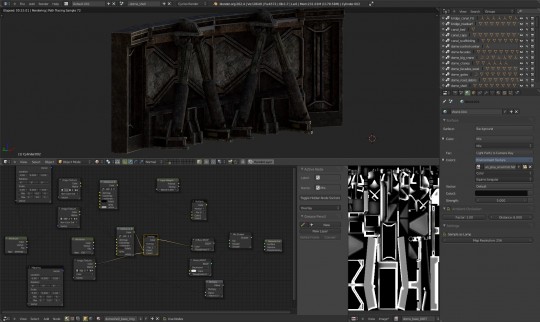 Something that is proving very useful is kits of standard objects like : metal beams, broken concrete pillars, wood planks.
Once they're setup, each piece can be grouped , linked into scenes and reused 1000 of times , but still be editable in a library blendfile where shading and modelling can be easily tweaked or redone completely.
And -below- some more up-to-date images  still some big pieces needing detail (mostly the church)  but what's going to be in important areas has enough silhouette detail for framing shots: the house in front of the church with broken bricks , the computers behind the scientists boats and the wires and broken walls for the east facades: