I'm baaaaaack! Arriving a little later than everyone else but now the team is complete!
Making up for missing out on the "Quit Blender" fun, I've been spending my first few days playing around with some of the half finished models that have been laying around. This robotic arm (modeled by Kjartan from David's awesome concept with little tweaks by me) is the first to be rigged up as a test.
In this we've got three main fingers each rotating it's segments with a different style.
The little finger as just a basic 2 bone/1 axis pivot.
The big finger with a median plate between them and pistons coming of each side.
And the Thumb with a 2 arm/1 piston type do-hicky…
With each of the fingers on its own rotating segment of the hand, as well as influencing "protector plates" on top of the hand and extra cogs in the forearm and wrist.
For the wrist itself I separated each of its rotational axis to 3 different positions, with the Z-axis split again between another 2 points, all controlled by the 1 bone!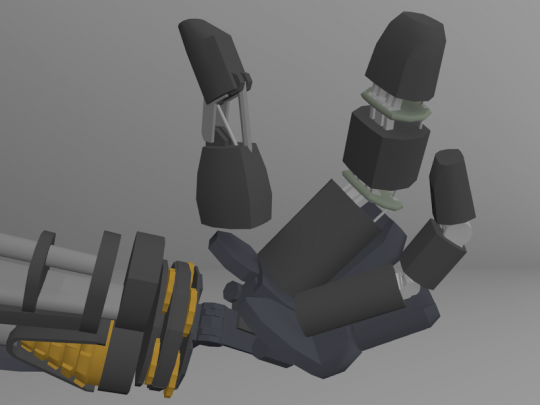 Its still a bit buggy at the extreme angles and there are still a few holes with joins and pivots and stuff to fill up. But for the most part its 99% working!
Now to add the mini chainsaw and other hidden blades of death!!!