One of the things we learned from the kickoff project was that animating the parameters of modifiers for a bunch of objects can be very, very time consuming. So we asked Sergey if he could make a button that copied the animated parameters of the actively selected object to the whole selection. 5 minutes later he had fully working feature that did exactly that :)
And here it is!: ModifierTools.py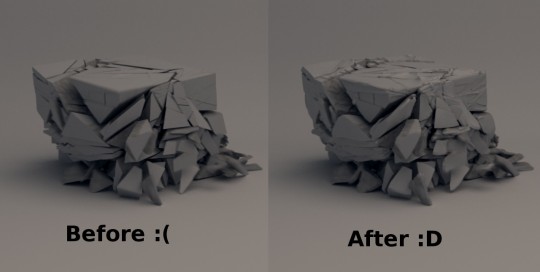 In the image above you can see an example of how I am using the script to make fractured shards look more organic (less straight). This is good for mid ground fragments.
So this is how the tool works:
1. First, install it like you would any addon. Then activate it under UserPrefereces/Addons/Object/Modifier tools.
2. Select all the objects, make sure that they all have the modifiers that you want them to have. Do all the animation of the modifier parameters on the actively selected object, then press the "Copy Modifier Settings". You'll find it either by pressing spacebar and then typing "Copy Modifier Settings" or just use the button in the toolbar).
3. The result should be that all the modifiers for all the selected objects should have animation to them.
Quick disclaimer: This is a typical production tool. At the moment this is not officially supported, so there is no bug tracker for it.
I hope you find it useful.