One of the very last minute changes to our was to add some extensions to the Captain's eyepatch. This happened the 2 weeks after  the pre-premiere of Tears of Steel. The original eyepatch just felt a little bit naked. I mean, after all it's just a disassembled webcam with red LED, taped to a metal strip. So we thought that maybe we could enhance that a bit.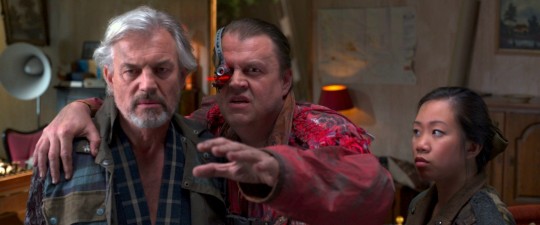 Kjartan modeled a small but very effective extension, and Ian created a holographic text overlay, which goes really well with the other holographic elements in the movie. All in all there were 16 shots where you see the captain's face, there was quite a bit to track and composite. Luckily lots of these shots are quite similar so a lot of the lighting and composite setups could be copied over.
The tracking was mostly smooth and easy as usual, with some shots just taking a few minutes to get good object track. Some other shots suffered from the typical flipping problem of blender's object solver. So these had to be manually corrected, but all in all it went very smooth.
Now just in time when all tracks of the movie were finished Keir, the developer of LibMV, came up with a fix for the nasty flipping problem. :D
Well, but better late than never. Basically now the solver wouldn't fall back to a different solve projection mode when the first algorithm produces a certain error value, which had previously caused the error.
So now Blender's tracker is even better than before!
:)
And here's a little timelapse of the workflow (original time 28 minutes).