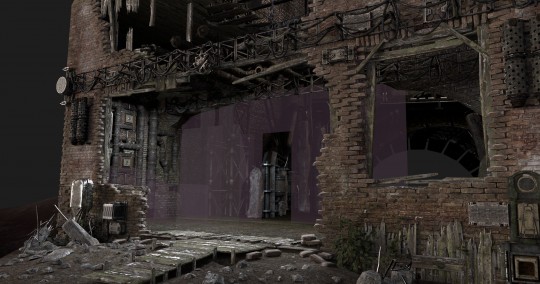 The env. modelling phase is really approaching the end now!
i've been working remotely for the last 3 weeks , and next one is my last on the project ! sigh ! but it's time for the models to be final since further steps depend on that.
Last weeks have been basically a big post-apocaliptic spring-cleaning, going around the dome fixing and adding all the missing bits . Once you're done 'adding' things, there's always a quite important phase of going over everything again and ..clean up, complete and repair.
Continue, to read more about this and control center detail modelling  :
I haven't been rendering much lately, just quick renders just to look at passes : mostly difcol to balance texture brightness , like here: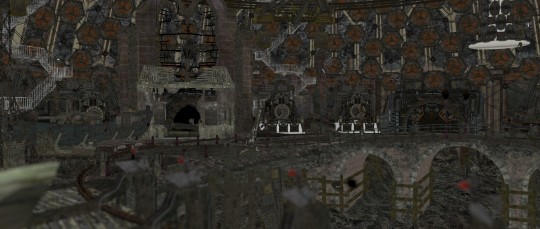 And working on greeble kits: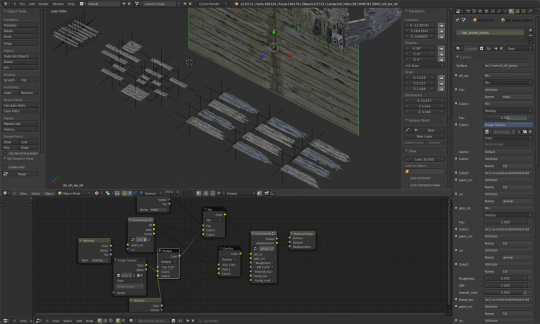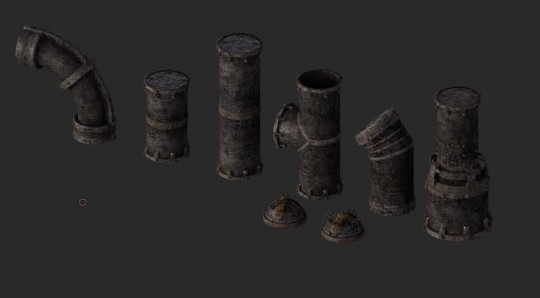 Then, This week was about the control center (the house attached to the south facade of the Oude Kerk)
This is how it looked at the beginning of the week :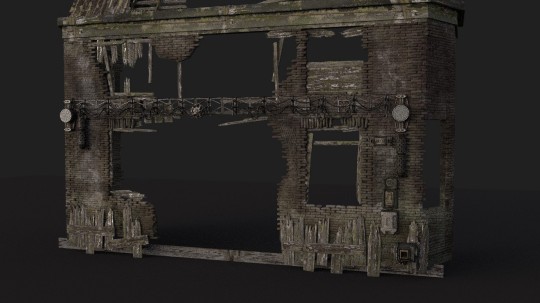 So i started by taking reference data from Sebastian's tracking file.
What i did is mostly outside of the actual tracking/masking/shot set up done by Sebastian/Roman/Andy and others. I just lined up camera and env. ,  then traced a rough reference mesh for actors and  elements of the set , imported the 2 into my dome  file and went on modelling knowing set dimensions and shot framing.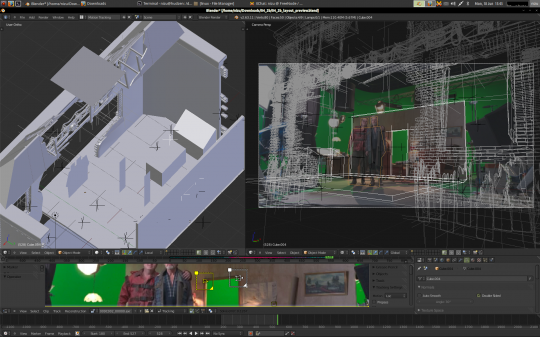 Back to the actual modelling , it was pretty much a greeble-fest : tech pieces , wires , broken wood planks and  beams … 80% of this scene is dupli-group objects , for 2 reasons : to reuse them elsewhere and to be able to move stuff around : if doing the last shot in this set turns out that something is blocking the camera path you don't want to have to modify meshes , redo uvs and paint textures, etc..
Some of the objects you've already seen , but the metal pipes , the wires and concrete debris were made for this set.
Clearly the other big topic is the bricks : single brick meshes on the edges , textures for the inner parts of the wall , various blended layers of tileable textures for the fine patterns , vertex color and random-by-object color  respectively to give specular highlights on edges and base color to each brick , and a custom painted grungemap to give a dirt gradient and big patterns over the whole facade.
And this is the current render:  (but still no comp nodes or real light design yet , that will happen when actual shots are setup)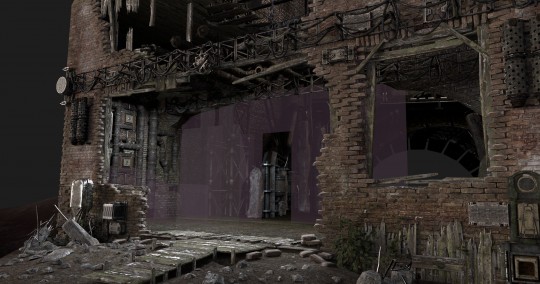 next step is to move outwards and apply new ground textures and debris around here (church) , the bridge area and scientists boat (which is the other set i'll refine next week)
Here's a quick render , a bit more work can be done on this base for the ground, then debris and detail objects can be placed to fill up, based on the precise shots framing (..there's also the risk of putting too many detail objects all over , and that would be too heavy…)  :