It's texturing time for the dome , except for the scientist boat and a few props still needing more polies (the silos and boxes in a corner), I'm now setting up textures : a first pass tells me if the object is detailed enough and  whether it needs more mesh detail or more refined textures.
An example is the bridge , right now it's quite low poly for being in the center of the set , but textures are going a long way , and right now it doesn't seem to require crazy high-poly sculpting , but rather a solid material and some greeble models as filler (cables, lamps, and misc. tech probably)
So here's some individual renders dome props , you can see some of the nodes used : they are just groups (made using trunk cycles, no custom or secret code :D ) .
I'm really excited about the current texturing/shading possibilities: thanks to  batchbake, vertex color channels, blended box mapping, nice tileable textures and the flexibility of Cycles nodes … you can get really nice materials, really quick.
Hopefully this will work nicely (as in technically stable and manageable) and make lighters/shaders happy (using groups heavily is now making these materials way more readable !)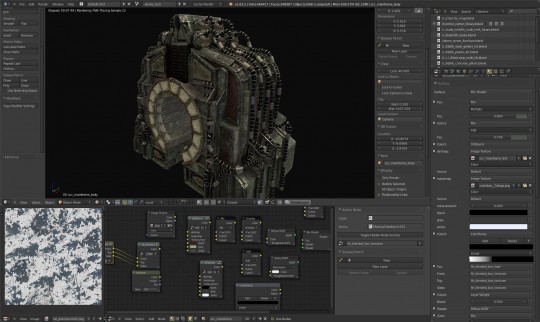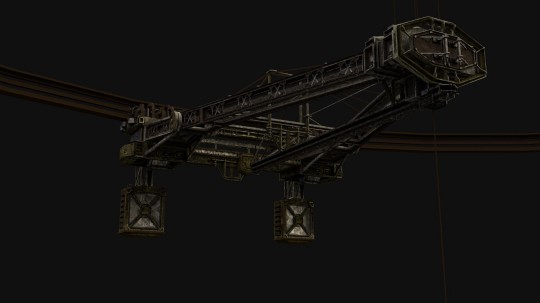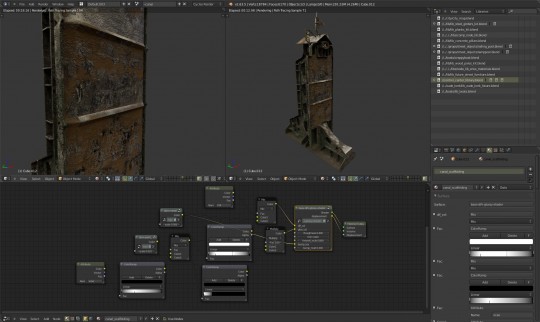 And here's a render plus its 2 main shading channels :  again this lighting and compositing are temp ,  but I need a rough render to work with and then look mostly at  the diffuse channel (3rd picture) to see if materials are balanced correctly : if something is too dark or saturated it's not always trivial to decide if it's the texture or the lighting that needs changing , but for sure when  'colors' (dif and spec) will be better balanced all over, this thing will light much better.