A technical test, using 4k footage from real Amsterdam, tracked, integrated with some cg elements, all rendered in Cycles.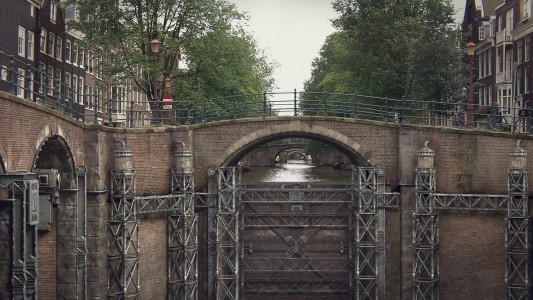 Of course being a test, we focused on some aspects and moved quickly on to others, so the modeling is a real simple kit-bashing, but still, kits are incredibly useful and a lot can be done with a small number of beam/girder/truss modules.
These use materials similar to the greeble objects in an earlier post, but even simpler: no AO bake, just an image with various B/W gradients, then each piece is UV mapped on one of those to set rusty/shiny parts, then tileable textures using a cube map projection.
The matching part (materials and light) is always interesting: ok, it is unforgiving, and spotting differences in extended objects (stone, brick) is very easy, but on the upside the 'real' objects in the footage make an amazing reference that really helps to improve the realism. Simply .. you don't need to think that much or look for references, you pick something that doesn't match and improve it :)
The shot was tracked and reconstructed by Sebastian, who also set up layers and masks for rendering in BI,  then I did the modelling and to render in Cycles we had to rethink it without masking layers, so we tried a few setups and eventually found a working one with the help of Kjartan.
The main question was managing the reconstructed parts (..the real objects that need to cast and receive shadows and AO from cg objects) the final workflow for the project will be likely very different, but for a start it wasn't too scary :)
It will be a lot easier to do this kind of compositing when we get shadow and AO-pass, as well as mask-layers.
Once we have managed rendering this, we'll post the finished tracked sequence. Will be interesting to see how that looks like! Will there be jitter? Will there be sliding? Fireflies?
In a few days we'll know more!
:)