More details and textures for the dome ,as usual , but this week i also started detailing the boats:
One is the scientists' control center boat in the dome,  and the other the flying partyboat.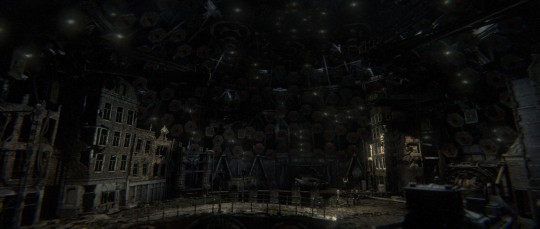 The scientists' boat is almost done modelling, but not textured yet (just base tileables and textured greeble objects ) …for sure it will need some rust leaks and general grime,  possibly not a custom paint unwrap, but a simpler  projection of a good tileable texture.
And, as usual, I'll use heavily either the batch bake ao script or the  dirty vertex color to generate masks for weathering textures.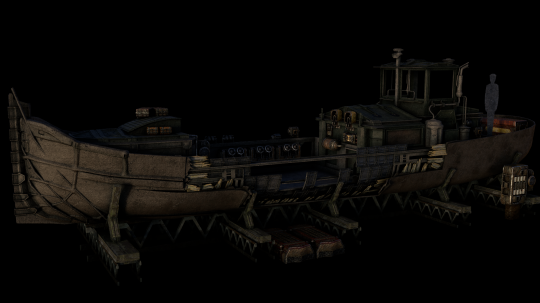 The party boat instead, is still in the design phase, needs more modelling details , And don't get confused by the shiny base shaders ! it will be as postapocaliptic as the rest , after texturing.
There are some interesting design questions on this model , so it might still change :  it's meant to be a very iconic Amsterdam boat , so i made a mix of old barge hull , with a modern tour-boat top structure , and a cabin looking more like the fancy restaurant boats.
It's also meant to be a crazy flying boat : so it has zeppelin style engines (mounted on a bycicle-like frame :D  ) and towers with speakers and searchlights.
Oh … and to make it all more challenging , this is going to be attacked by robots : so the model must be reasonable for animation and simulation (i hope it is ! it's very modular)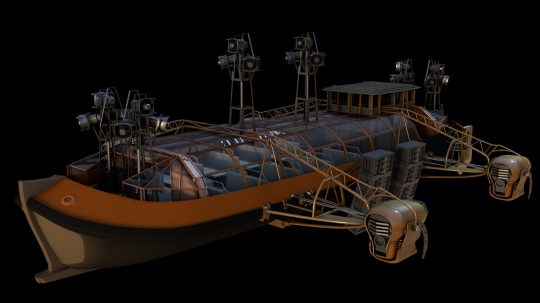 Although these materials aren't final at all (not much shiny car paint after the apocalypse) the 'candy' effect on the engines is working nicely.
Below is the breakdown of the nodegroup-preset i made and used for this render :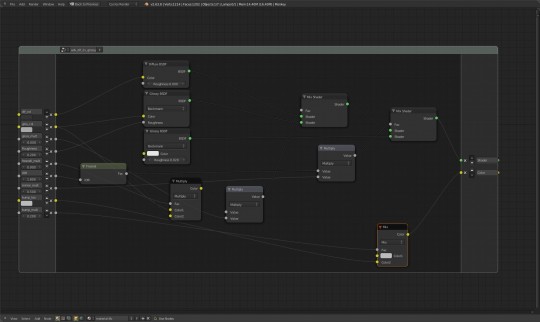 I'm using everywhere  these nodegroups containing brdfs, fresnell and everything that's repeated almost the same in all materials.
Such nodegroups still allow you to tweak sliders in each material, help organize things visually , and should be at least good placeholders for lighting and shading artists who need to work with my models and textures.
Almost 99% of my materials are using a classic diffuse+glossy setup , but the engines use the fancy  "dif+glossy+mirror coat" (a carpaint shader, basically).
If you're eager to try these, i put a preview blendfile on pasteall , with only those 2 nodegroups :  http://www.pasteall.org/blend/14210
There are many more or less equivalent ways to set up these things : like alternative ways to blend the fresnell .. or control glossy intensity , so i'm interested to hear opinions.