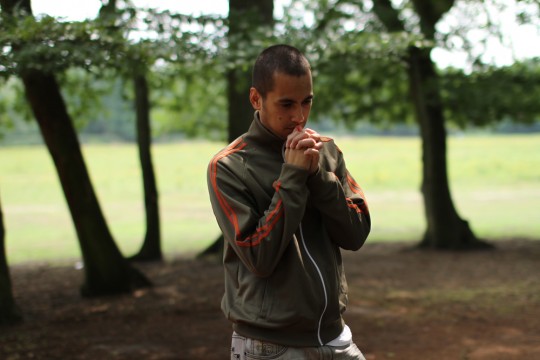 March is nearly over, the filming dates (around May 10) are getting closer every day! So much todo :)
Here's some news tidbits from the production department:
Composer & sound designer: Joram Letwory
I'm already following Joram's work a couple of years – yes he's the brother of Blender developer Nathan "Jesterking" Letwory – and I've always been impressed with this work. More over, he's not only a great composer and sound designer but even doing film and hiphop & dance clips! I'm very happy he accepted to help us with music and sound! It'll be a tough job to work in the shadow of the great Jan Morgenstern, but it's time to give a new talent a chance to get a public portfolio with a film soundtrack!
Ian and me had a meeting with production designer Romke Faber to go over a lot of practical filming details. He already did film design for several blockbusters here in the Netherlands. Needless to say – good quality films have production designers involved from the very beginning! For Mango, we have a lot of great artists on board already though, under Ian Hubert's creative direction. For the filming itself however we can really use Romke's help here. We'll only have a week to film and we better make our sets & props work out perfect!
Rob Tuytel arranged us a surprise visitor next week: monday the famous director Dick Maas will be coming over for a studio visit! Dick is the renowned (and and first!) action & horror director we have in the Netherlands. His films usually give a nice level of controversy – with as many haters as lovers. His somewhat cheesy Dutch style is definitely well aligned with Ian's American cheddar approach! It'll be a fun visit ;)
Joris Kerbosch (DP) has already found us his crucial buddies for on the set; a Key Grip, a Focus Puller and a Gaffer! I need to settle deals with them first, then we'll talk more about it.
Sebastian – finally done with dvd duties – now is refining our breakdown spreadsheet into fine detail for sets, props, etc. He'll be doing preparations & tests for us as some kinda mix of assistant director & production designer. That's what vfx supervisors do!
(Image: Joram)
-Ton-