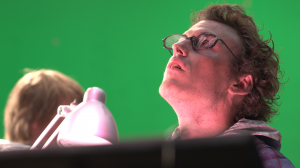 Thanks to our friends at Xiph.org we now can offer everyone access to the original source footage of Tears of Steel.
You'll find something like 80,000 frames, each in OpenEXR half float files, in 4096 x 2160 pixels. This is 5 times more footage than used in the film, including unused shots, but mainly it's because of long lead-in and lead-outs, and of course we've been cutting shots sharp.
Pictures have been shot using the (4k native sensor) fantastic Sony F65 camera. The raw files were converted with Sony software to OpenEXR, using ACES color. We then converted these with OpenColorIO to Rec709 "scene linear" which we further used for the movie pipeline.
Before we started with this VFX project we already noted a huge lack in available free high quality footage for motion tracking, keying and cleaning testing. With this huge data set this problem now belongs to the past forever!
Note about Creative Commons Attribution: apart from the obvious crediting, you have to be aware that the actors keep their Personal Image (Portrait) and Privacy Rights. That means the footage is OK to use for technical demos, showcases, tutorials etc. But not to use the actor for making a commercial. Read more here.
Have fun!
-Ton-
(BTW: xiph.org is currently syncing files from another server, arrival of all footage finishes in a few days).